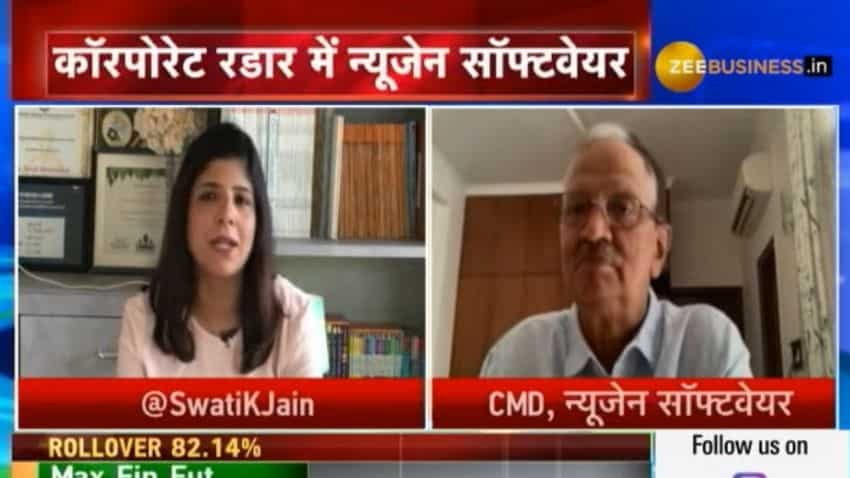 Diwakar Nigam, Chairman and Managing Director (CMD), Newgen Software, talks about his outlook for the company in FY22, Intelligent Document Classification Software, the reason for reduction of promoter stakes and geographies where the company will focus among others during a candid chat with Swati Khandelwal, Zee Business. Edited Excerpts:
See Zee Business Live TV Streaming Below:
Q: The trend for orders of the company is looking good. Going forward what is your outlook for FY22? 
A: COVID is going, and we all are active in expecting it and thinking that there will be progress. In the last two years, we maintained our status but were able to grow less. This year we are looking at high double-digit growth. So, our company has been growing at a CAGR of about 21-22% just before the COVID years. The last two years have been more stable because new business suffered. Our old customers kept giving us business and we kept working but there was a problem in bringing new business because neither we were able to travel nor were able to meet the customers. I think, it has affected a bit due to which we were not able to grow a lot and saw a growth of just around 4-5%. This year, we are looking at much higher growth rates. Our company also works across the world and just around 27-28% of our business comes from India. We get big business from the Middle East, Africa, US and Asia-Pacific Economic Cooperation (APEC). Some of these markets have opened completely, like the US, but you don't know when the markets will be closed once again due to the COVID like Australia was completely open but suddenly, Sydney and Melbourne were closed. So, we are looking at good numbers and good progress. I think that the market is looking up, so we will be able to grow. This is our reading and I think every IT company is also going to grow, the only thing is depending on the size how much have we grown, growth may be small but there is the possibility of growth for us. 
Q: Recently, you have further enhanced your Intelligent Document Classification Software. What's the quantum benefit here in terms of further client acceptability and incremental sales of the software ahead?
A: What happens, when a person chooses a platform, like the ECM platform, then generally he chooses a platform for the whole enterprise, then works on it. So, you have to have a comprehensive view of that platform. Similarly, if someone buys our ECM (enterprise content management) platform, which is document management in simple layman terms, so in that, they want to have different facilities. So, if you don't have an intelligent document management facility then you will not be able to identify private documents, for instance once upon a time, someone went and added his Aadhaar card or Credit card and archived it. Now, the government says that these things must not be displayed, so, we have to go and search them in our document images and then hide them. So, this is about it and for doing this we have to have intelligent document management and intelligent document classification so that you can classify these documents and then edit those documents and mask those documents among others. This enhances the business because now it is becoming a necessity. These product platforms take a lot of time to be created and also from time to time, as things progress and new needs start evolving, you have to continuously upgrade them otherwise you will not remain relevant, and you will lose out in the market. So, we keep doing this work continuously and also take patents for this, bring new technologies in place and do new things. I think, this is what we have been doing and everything as evolves, market edge increases. 
Q: The promoters in June 2021 sold 10.57% stakes and reduced the promoter holding from 65.73% to 55.16%. First what has been the reason for the stake sale and secondly what is way ahead?
A: There is no such plan and this plan come on the way just because our investor bankers informed us that our liquidity in the market is quite low in numbers and value and if you want larger investors to come in the liquidity has to be increased. And that is why we went ahead and diluted some amount of share but still, we have around 55% share and not only 55% if you include our employees who have got a large amount of stock option that will amount to another 8-10%. So, I think, we are still between the promoter and the employees, we own a very very large percentage. So, I don't think that it is the aim, as a result, we have got very large investors who came in and now will become anchors in our organization and they provide the stability and provide us with good standing in the market. There is no plan for further dilution. 
Q: How has been the deal pipeline and which kind of deal wins is expected going ahead in the next 3-4 quarters? Which geographies do you feel would contribute the most to your growth?
A: The market is huge, and the potential is very very big. We have been operating mainly in a very small market of Africa, the Middle East, India and the APEC, while the largest markets are Europe and the US. And the US in a short while in the last 4-5 years has become about 30% of our turnover and it is growing. If you have a look at the US market, then for these products the US Market is about 60% of the world market. So, I think that is where we are focusing as we feel that it is a huge market and has a huge potential to go. We already have around 60 customers in the US, North American market and now, we are finding that many big people are going for these things. Up to now, we were going for small and mid-sized business and our excess to the big enterprises' Fortune 2000 companies was very poor, what we are doing now is that we are collaborating with large system integrators, you name anybody in India, and they are collaborating with us and they are standardizing on our products and are trying to take to the Fortune 2000 market. That is where we are seeing our biggest progress. So, it is the insurance and financial services market is the largest market for us to begin with. 
[ad_2]
Originally Appeared Here